SPORTS COMPRESSION | BEFORE DURING AND AFTER PHYSICAL EFFORTS
Info or intox, we lift the veil on sports compression inspired by medical compression and take a look at the VEINOUS RETURN and VIBRATION REDUCTION.

1. SPORTS COMPRESSION IS USED AT REST: BEFORE AND AFTER PHYSICAL ACTIVITY
It is based on medical compression. Its use rests on improving venous return.

How does it work?

Gravity causes blood to accumulate in the legs. The veins and the body's pumping mechanism contribute to returning the blood to the heart. With each step, a small amount of blood is propelled from the foot up towards the calf. Blood fills the veins and when the calf muscle contracts, it is sent towards the heart.
In the event of a failure or if the calf doesn't fully contract, the blood tends to stagnate in the legs, causing swelling and discomfort. The solution may rest on the use of compression... Pressure applied around the legs reduces the diameter of the veins – just like squeezing a tube of toothpaste. This improves venous return and reduces swelling. These effects have led to the emergence of compression in the sports world.
The "tube of toothpaste" effect: the calf. muscular "pumping" action helps to return venous blood towards the heart. The feeling of "light legs" at the start of physical activity! Taking part in a major competition often means travelling away from home. Preparations, journeys and trips stop athletes in their tracks and render them immobile. The result? Swollen legs and aches and pains = heavy leg syndrome.
By preventing any kind of swelling, compression is used before physical activity to give athletes the sensation of light legs and help them perform better. Signs of discomfort are also significantly reduced when compression clothes are worn while travelling (by plane, train or car) and in hot weather.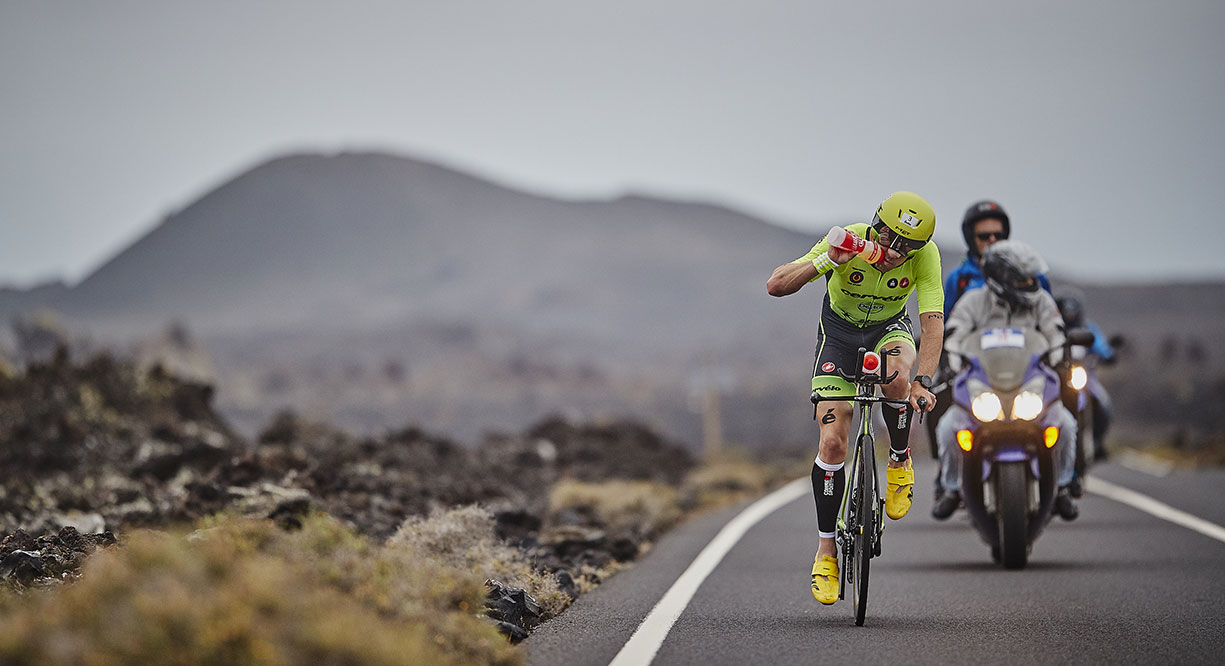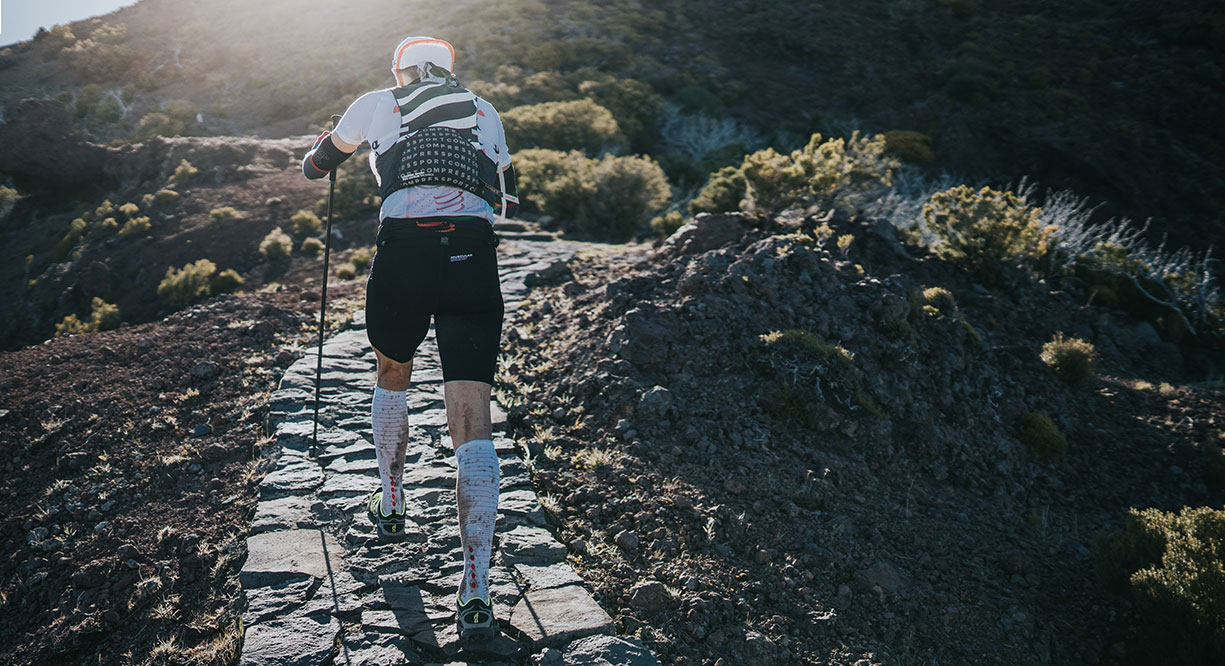 SHORT AND INTENSE EXERCISE ( UP TO ONE HOUR )
The competitive format of numerous disciplines (swimming and cycling, for example) means repeating short bursts of intense activity in a relatively short space of time. The accumulation of toxins ("lactic acid") and the reduction of energy reserves speed up the onset of fatigue every time the athlete begins a new burst of activity. The use of compression between exercises can prove very effective!
Improving the entire recovery process, with compression
Blood flow, muscular oxygenation and lactatemia measured during post-exercise recovery with and without Compressport Full Leg. * : significant difference. The improvement of venous return will trigger a chain reaction of events:

• Increased blood flow (+15%)
• Improved (+10%) oxygen supply to the muscles (which is required to restore energy reserves)
• accelerated elimination of toxins (after 15 minutes of recovery with Compressport Full Leg, lactates are reduced by 13%).
Overall, the entire recovery process is improved with compression: aches and pains are reduced and subsequent performance is enhanced.
By preventing any kind of swelling, compression is used before physical activity to give athletes the sensation of light legs and help them perform better.
Arnaud Ménétrier | Head of body science development
LONG - DISTANCES RACES
Prolonged, unusual and/or demanding physical activity can sometimes lead to muscle injuries followed by slow recovery (over several days). This is often the case after long-distance races or strength training. Their resorption triggers inflammatory processes and the onset of oedema (swelling), which causes muscle soreness (at its peak after 48 hours).
By reducing this swelling, compression garments worn for a few hours after this type of activity are an effective way to limit the extent of muscle injuries as well as soreness. It also helps to restore the loss of muscle performance that comes with these injuries more quickly.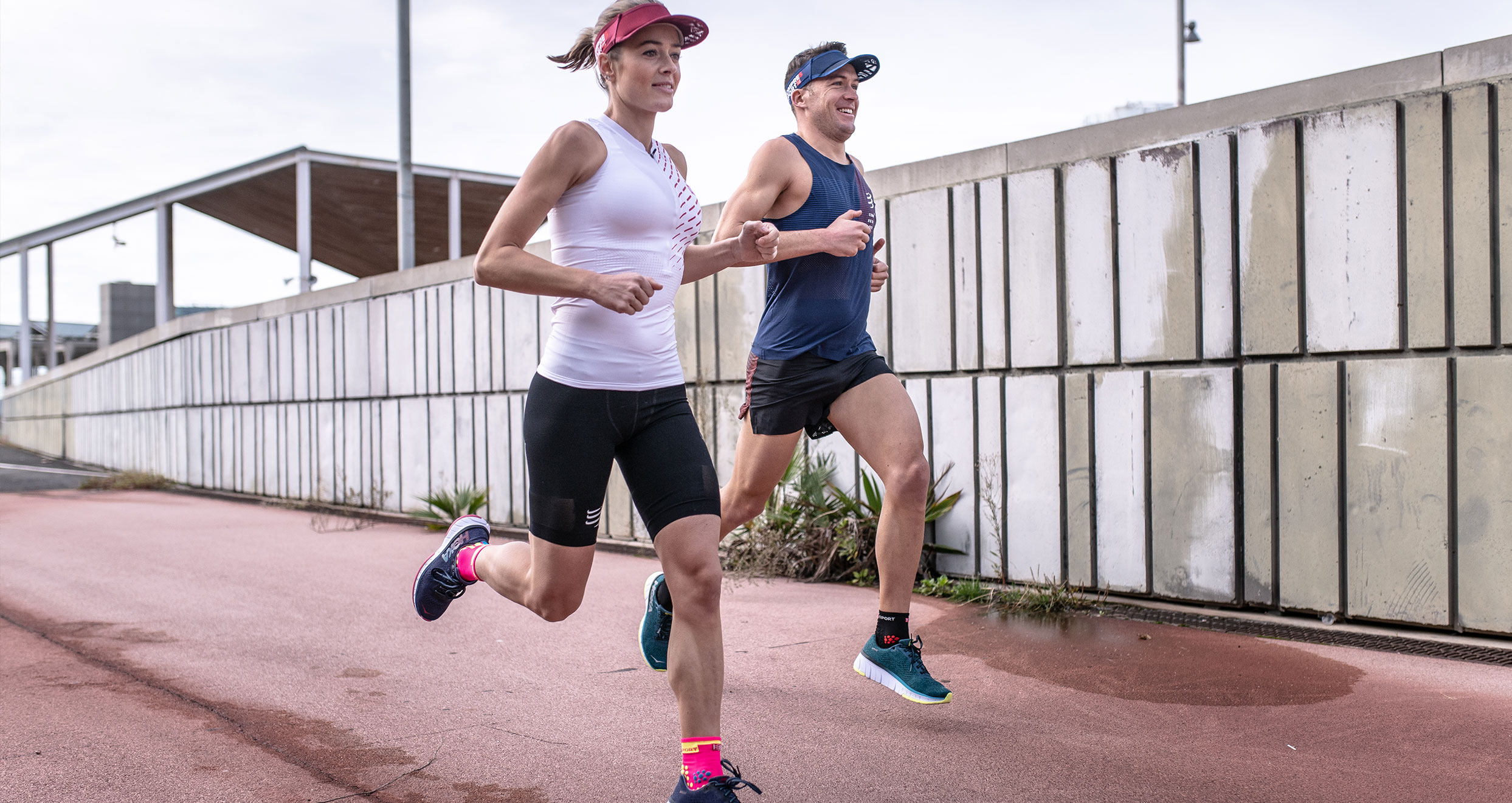 2. SPORTS COMPRESSION DURING PHYSICAL ACTIVITY
To encourage venous return: this is also the number 1 selling point put forward by numerous manufacturers to justify the use of their socks and sleeves during running. However, this argument is still the subject of much debate... while others appear to be much more relevant!

Reducing vibrations a key selling point at Compressport

Muscle vibrations measured with and without Compressport R2 using accelerometers attached to the calf. The effect (see schema on page 38) use of compression during running essentially rests on reducing muscle oscillations (-33%), which reflect the vibrations generated by impact with the ground. By reducing these vibrations, compression can limit muscle injuries (-42%) caused by repeated impact during prolonged physical activity, such as trail running or marathons. Muscle fatigue is delayed and performance is improved After physical activity, inflammatory processes are reduced (-52%), which indicates that compression plays a preventative role in the onset of muscle soreness.

Preventing the risk of injury, another powerful selling point

A study carried out on 1200 athletes showed a 29% reduction in the risk of injury when Compressport compression garments were worn during all physical activity. This result (reduction periostitis, tendinitis, sprains and other muscle injuries) is down to:
Reduced vibrations (less engagement of the tendons)
Increased temperature (and therefore more warmed up)
Improved proprioception (notion of balance)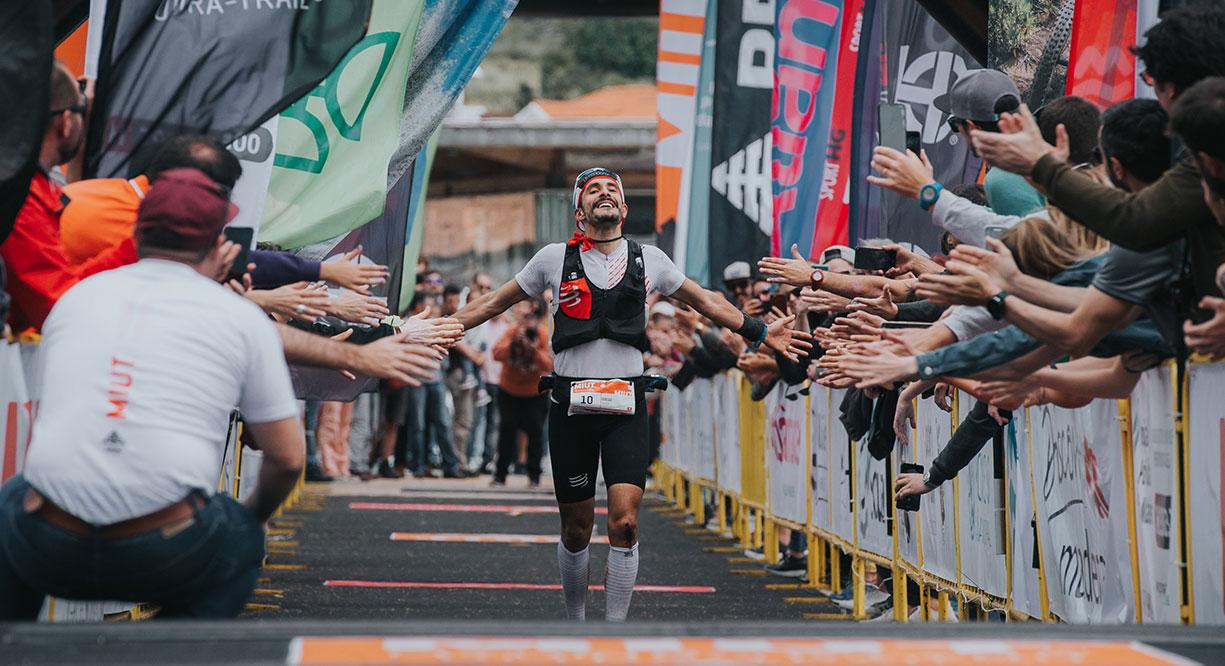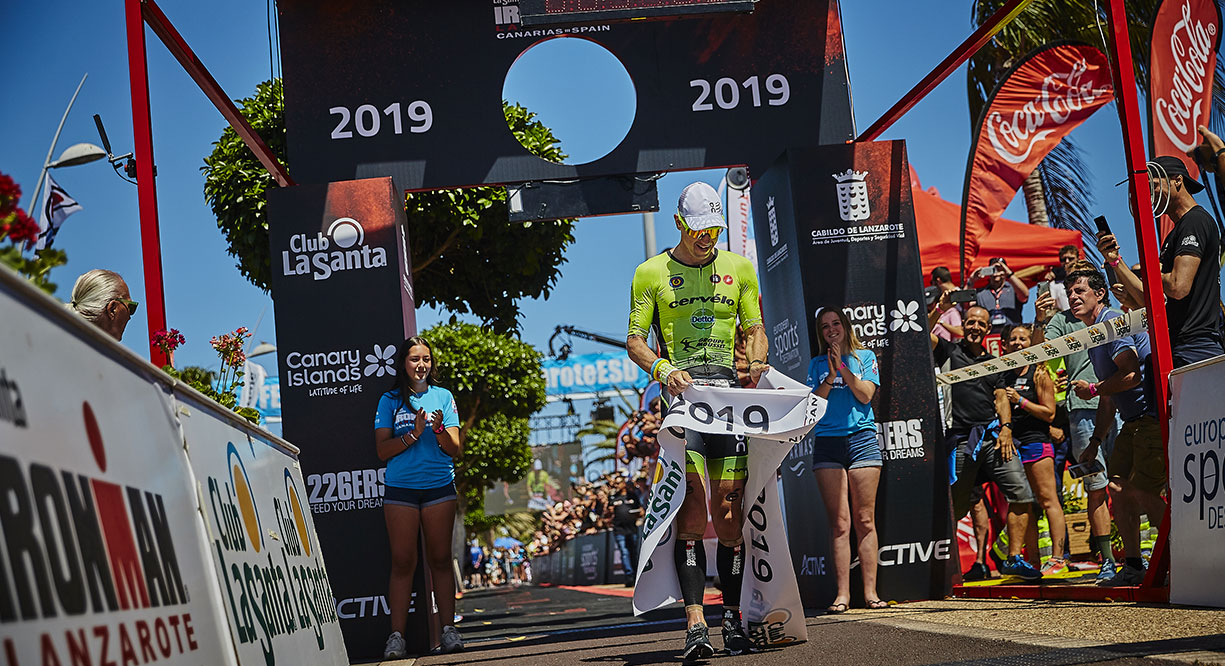 3. HOW TO USE SPORTS COMPRESSION EFFECTIVELY
Sports compression differs from medical compression in numerous ways: greater elasticity, more technical fibres and various pressure levels and gradients... Compression used at rest (before and after physical effort) is designed to improve venous return!
There are various determining factors in the improvement of venous return:
The pressure gradient between the ankle and the calf is inspired by medical compression: it is degressive (higher pressure at the ankles) – you squeeze the bottom of the tube of toothpaste to make it rise...
The compression level applied to the calf is also a determining factor and must be sufficiently high (15 mmHg). This behaves in the same way as a sponge!
The presence of compression around the foot is also vital.

Compressport Full Socks meet all these criteria and have been established as the ideal solution before physical activity and during recovery. Compressport Smart Socks (slightly lower compression level) will be handy when travelling. Compressport R2s can be used to improve recovery in certain states: walking, motionless 1 hour etc. They must not be used under any circumstances in prolonged passive positions: the absence of compression around the foot and the inverted gradient can lead to blood stagnating in the feet. The athlete will use Compress Full Socks in this case. Compressport Full Leg and Quad are effective for reducing muscle soreness in the thighs after prolonged, unusual and/or demanding physical activity.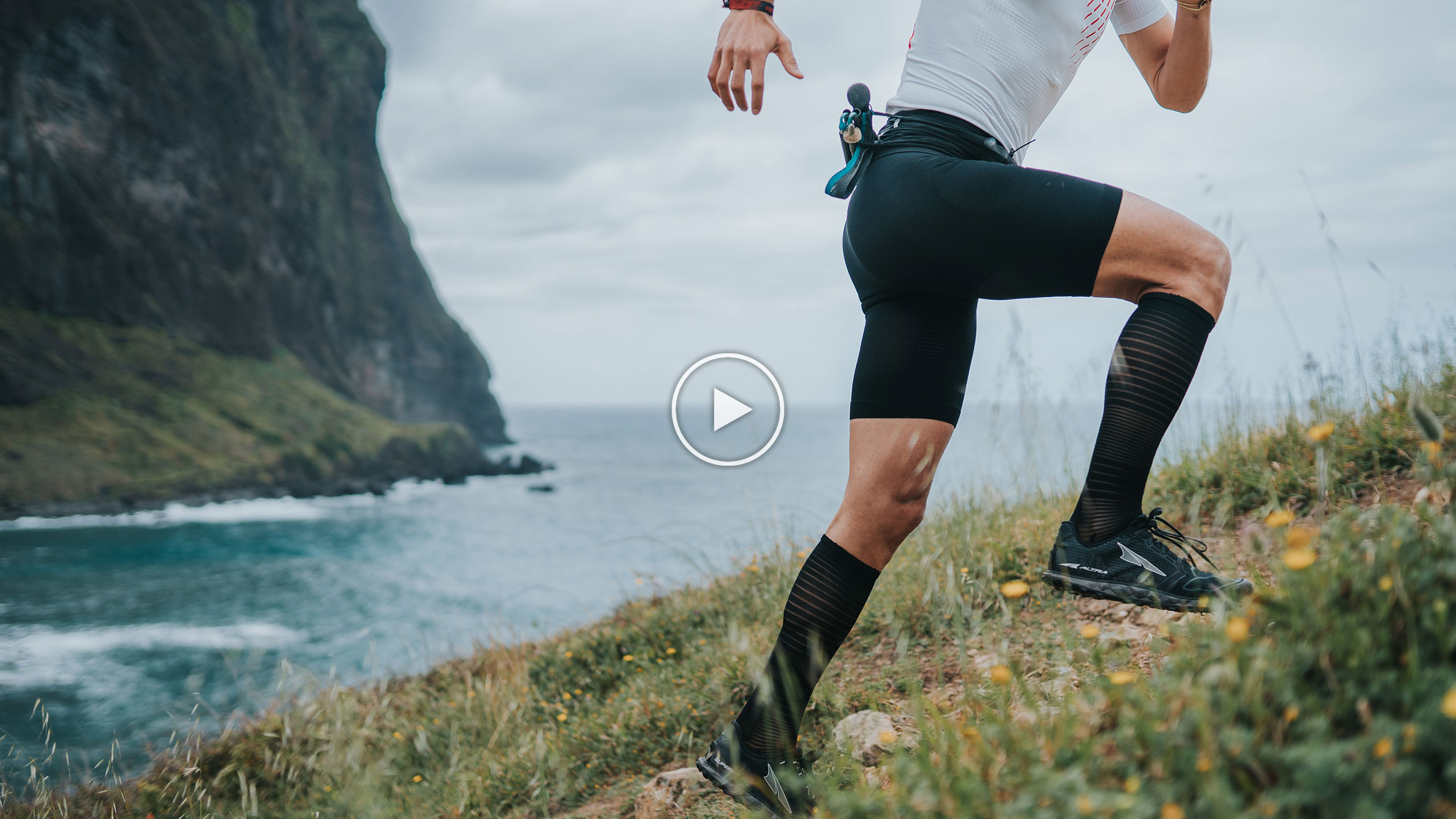 Shop the best compression garments